Rep. Bill McCamley
isn't the only lawmaker seeking an Attorney General's opinion today. Sen. Linda Lopez, chairwoman of the Senate Rules Committee also wants one.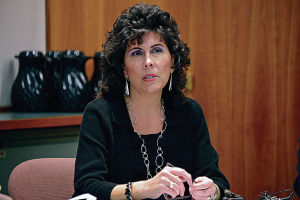 Sen. Linda Lopez
Legislators are allowed to request opinions from the attorney general. The opinions themselves do not have the force of law.
As her letter, below, points out, (and as I noted in my
Sunday column this week
), Skandera was the subject of 10 hours worth of testimony in her long-delayed confirmation hearing before Lopez's committee.
Lopez had several questions for the AG involve charter schools contracting with private companies -- specifically the New Mexico Virtual Academy, a Farmington charter school, and K-12 Inc., a private for-profit management company under contract with the school. Lopez wants the attorney to say whether there are possible procurement code violations in the school's contract with the company.
She also asks for opinions regarding the legality of $1.7 million from a general obligation bond that went to schools that scored high in the recent A-to-F ratings.
Lopez also asked for an update on the AG's investigation into Public Education Department Employeess being used to compiles lists of non-union teachers for Gov. Susana Martinez's political consultant, Jay McCleskey. A spokesman for the department told Lopez an AG investigator said he would recommend that the investigation be closed.
Looks like KIng and his staff have some opinion-writing ahead of them.