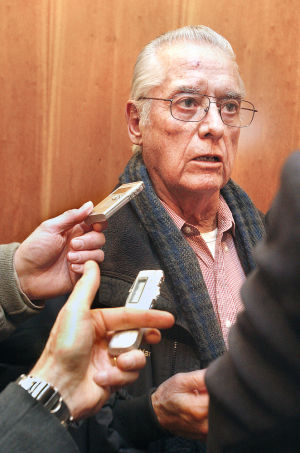 Rep. Luciano "Lucky" Varela, who has represented House District 48 in Santa Fe since 1987, just told me he'll be running again next year.
"I'm feeling strong," Varela, 78, said. "I'm feeling good about serving another term."
Towards the end of this year's legislative session, Varela was hospitalized after he collapsed and was unconscious for about 20 seconds in his office. He later said doctors thought he might have had a reaction to blood pressure and allergy medications. He returned to the Roundhouse for the end of the session.
Varela is the chairman of the Legislative Finance Committee and vice chairman of the House Appropriations Committee. The chairman of that panel, Rep. Henry "Kiki" Saavedra, D-Albuquerque, announced this week that he wouldn't seek another term.
Varela said he thinks he would do a good job as chairman. "But it's all up to the Speaker," he said. The Speaker of the House appoints all committee chairs.