Gov. Susana Martinez will speak at a Republican political action committee meeting in Miami next month, the
Sunshine State News
reported today.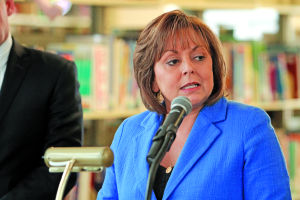 She'll be speaking at MavPac, which is associated with George P. Bush, former Florida Gov. Jeb Bush's son, the publication said.
The article referred to Martinez as a "potential Republican presidential candidate," though Martinez repeatedly has denied she'll run for president in 2016. It noted that "two other possible Republican presidential candidates" will speak at the meeting -- Jeb Bush and U.S. Sen. Marco Rubio.
Martinez has made or scheduled several several out-of-state trips in recent weeks. She recently attended a fundraiser for her own campaign in Washington, D.C., and last month went to Austin, Texas for a fundraising event by national Republicans to recruit and elect more women and minority candidates. On June 29 she's scheduled to speak at the Ohio Republican Party's State Dinner in Columbus.