Two of the three Democratic candidates for governor were in the same room at the Roundhouse last week. But neither seemed to be in campaign mode.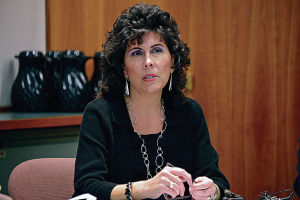 Attorney General Gary King, the first Democrat to declare he wants to be the party's nominee to take on incumbent Gov. Susana Martinez, was testifying, along with State Auditor Hector Balderas, before the Legislative Finance Committee about the investigation into 15 mental health providers under investigation for possible fraud. State Sen. Howie Morales, D-Silver City, who just last week joined the gubernatorial race, was there because he's a member of the LFC.
No, there weren't any obvious tensions showing between King and Morales. In fact, Morales wasn't in the room very much during King's presentation.
Knowing what I do about these two candidates, I rather doubt that it gets very nasty between them.
If there are any fireworks in the Democratic primary, my guess is that it will come from the third candidate, Sen. Linda Lopez, D-Albuquerque. In fact, just last week, Lopez took a swipe at King in a news release dealing with the behavioral health controversy.
For more on this, plus a sneak peak at U.S. Rep. Steve Pearce's upcoming autobiography CLICK HERE